Emily White and Steve Bingham
Trombone, Sackbut, Violin, Electric Violin, Electric Bass Violin, Percussion and Vocals
Saturday 25 October 2014 • 7.30pm
Tin Hut, Gartly (map)
Tickets £10.00, £6.00 (concession), free (schoolchildren)
available from Deveron Arts, Rizza's shop, or at the door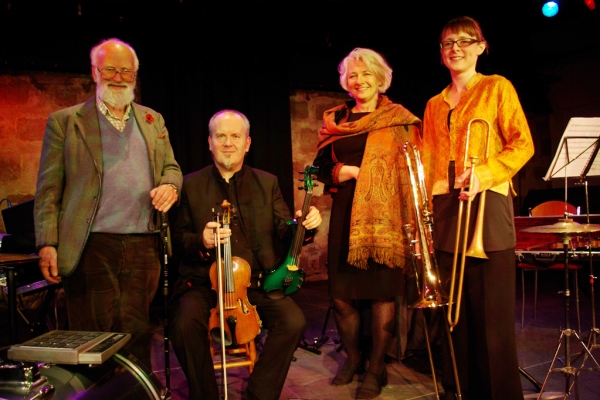 David Ward, Steve Bingham, Jane Frere and Emily White at the 2010 premiere of e-mails from Palestine
Photograph © Malcolm Crowthers
Emily and Steve will perform a varied programme including a performance by Steve of Bach's D minor Partita for solo violin, which ends with the astonishing 15 minute Chaconne. Steve has recently released a CD which includes a performance of this partita. Together Steve and Emily will play adaptations for sackbut and electric violin drones of music by the 12th Century proto-feminist, Benedictine abbess, visionary and polymath Hildegard of Bingen. A number of short pieces are to be specially written for this concert by local school pupils. Emily and Steve will also perform a substantial piece specially written for them, e-mails from Palestine by David Ward, who lives near Aberchirder. This exploits the exceptional multi-talents of Emily on sackbut, trombone, violin, vocals and percussion with Steve on violin, electric violin and electric bass violin (with live loops) and percussion. The texts, intoned and sung by Emily, are fragments of emails David Ward received in 2007–2008 from Scottish artist Jane Frere when she was working with young Palestinians. The piece was commissioned by Woodend Arts as part of Sound with subsidy from Creative Scotland and first performed in 2010 and 2011. A studio recording of e-mails from Palestine is due to be recorded by Steve and Emily and should be available online by the time of this concert, which is part of Sound, Scotland's festival of new music.
Emily White is well known to the people of Huntly through the Huntly Summer School and the Isla Quartet. She was working as a trombonist when she heard the beautiful and inspiring sound of the baroque violin. She took violin lessons from Rachel Podger then Walter Reiter and studied with him at Trinity College of Music for a postgraduate course in historical violin performance. With her performance of Bach's Chaconne from the Solo Partita in D minor she won the Trinity Early Music Prize 2007. Emily has enjoyed being a member of Devon Baroque, directed by Maggie Faultless, for several years. She has also played violin with The Scholars Baroque, Concerto Caledonia and Shakespeare's Globe Theatre. She set up The Isla Quartet, which released their first disc Center of Huntly in 2008. She created and directs the annual Huntly Summer School which combines the traditional Scottish and classical styles of learning. She also continues to work as a trombone player, is a member of the English Cornette and Sackbut Ensemble, and appeared on BBC Radio 3's In Tune with her modern brass quintet Chaconne to showcase music from their recent CD release Dancing in the Dark. Emily freelances with the Orchestra of the Age of Enlightenment, the English National Ballet and the Orchestra of the Eighteenth Century. She continues to work extensively as a teacher and coach of trombone, sackbut and baroque violin.
Steve Bingham studied violin with Emmanuel Hurwitz, Sidney Griller and the Amadeus Quartet at the Royal Academy of Music from 1981 to 1985, where he won prizes for orchestral leading and string quartet playing. In 1985 he formed the Bingham String Quartet, an ensemble that has become one of the foremost in the UK, with an enviable reputation for both classical and contemporary repertoire. The Quartet has recorded numerous CDs and has worked for radio and television both in the UK and as far afield as Australia. The group has toured in Europe, the Middle East and Australia and has worked with distinguished musicians such as Jack Brymer, Raphael Wallfisch, Michael Collins and David Campbell. The Quartet's educational activities have included residencies at London's South Bank Centre, for several UK festivals and at Radley College. The Quartet is also known for its many performances of new works by some of the best young composers in Britain.
Steve has appeared as guest leader with many orchestras including the BBC Scottish Symphony Orchestra, the Scottish Chamber Orchestra, English National Ballet and English Sinfonia. He has given solo recitals both in the UK and America and his concerto performances include works by Bach, Vivaldi, Bruch, Prokofiev, Mendelssohn and Sibelius, given in venues as prestigious as St John's Smith Square and the Royal Albert Hall. Steve is also a conductor of some repute and is currently principal conductor of Ely Sinfonia, the City of Peterborough Symphony Orchestra and the Ad Hoc Sinfonia. In the field of world music Steve has collaborated with several notable musicians including guitarist Jason Carter and players such as Sanju Vishnu Sahai (tabla), Baluji Shivastrav (sitar) and Abdullah Ibrahim (piano). Steve also plays live with No-Man, the progressive art-rock duo of Tim Bowness and Steven Wilson. In recent years Steve is much in demand providing violin backing for many different artists and styles, from folk singer-songwriter ballads to prog rock! Steve is internationally renowned for his solo violin recitals, where he mixes acoustic pieces with live-looped electric violin arrangements in his own unique way. He has recorded four solo albums, Duplicity, Ascension, Third and, released in July 2014, The Persistence of Vision (which includes Bach's D minor Partita), alongside many single tracks, and he is currently planning two new releases for 2015. Steve's interests include ornithology, photography and Celtic knotwork.
Promoted by Music Centeral as part of Sound, Scotland's festival of new music.